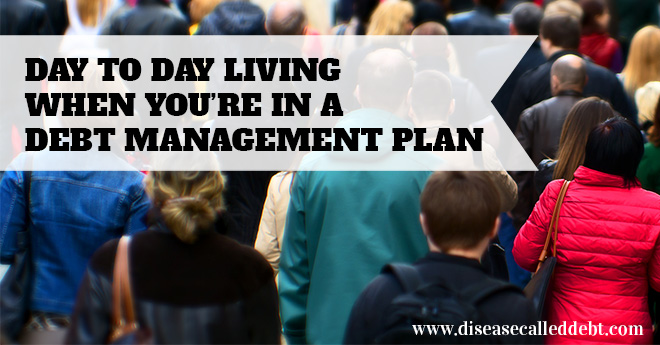 My husband and I were in a Debt Management Plan for around 4 years before we finally cleared our debts in November 2014. This happened after we hit rock bottom with our debts and couldn't afford the minimum repayments.
It was hard work scraping together money wherever possible to overpay it – but we did and now we can say that debt freedom tastes good! In today's post, I describe what it's like living day to day whilst in a Debt Management Plan. If you're not sure what a Debt Management Plan is, check out this article about the key facts you need to know if you're considering one as a way of managing your own debt.
The early days are a little daunting
At first when you enter into a Debt Management Plan, things can feel a little scary. Because after you've worked out your budget, your creditors need to know that you can't afford your minimum repayments and you then need to negotiate a lower payment with them. For this reason alone, it's worth getting a debt management company involved as opposed to managing your Debt Management Plan yourself, so that they can handle this side of things for you.
It's not that your creditors will immediately come knocking down your door chasing for payment when you say that you're struggling – far from it – because they have to listen to you if you're saying that you're in trouble and if you're asking for help.
However, the prospect of admitting to your creditors that you're struggling with your debts is daunting and they might put a little pressure on you if they know you're defaulting (or about to default) on your payments.
Debt management companies know your rights better than you will and they have no emotional involvement in your situation, so there are definite benefits to letting them handle your creditors. (In the UK, there are debt charities that can help you for free – try National Debtline or Stepchange.) It takes a lot of stress and worry out of the equation.
What happens during the Debt Management Plan setup process?
While your Debt Management Plan is being set up, you might receive letters and phone calls from your creditors demanding payment. Some creditors can be scarier than others and may say something along the lines of how you'll be taken to court if you don't pay up. This is normal. If you have a debt management company involved, they will probably tell you to ignore the letters and phone calls whilst this process is taking place.
If you're managing your Debt Management Plan yourself, you can cover yourself by writing to your creditors to confirm that this is in the process of being set up. It's always best to write to your creditors rather than dealing with them over the phone – this way you have a record of all communication and there's less room for misunderstandings.
What to expect when your Debt Management Plan is set up
Once your Debt Management Plan is set up, any chasing letters and phone calls should stop and life will become more peaceful again. There is a chance you may still be chased by your creditors because the original contract has been breached. However, there are things you can do to help yourself if this situation arises.
You should be making a lower monthly payment so you'll probably find yourself a little more at ease with your debts. If you're going through a debt management company they will want to review your income and expenditure a couple of times a year to see if anything's changed.
If your income increases, you will be expected to pay more towards your Debt Management Plan. If you're handling your Debt Management Plan yourself, you'll be expected to review your budget in the same way, but directly with your creditors. They may want to hold a review more than twice a year.
For the duration you're in a Debt Management Plan, you will struggle to get credit elsewhere (that's usually a good thing though). This is because once you're making lower monthly payments to your creditors; you're technically defaulting on your payments every month.
Who will know about your Debt Management Plan?
You don't have to tell anyone that you're in a Debt Management Plan unless you want to. But if your Debt Management Plan will take a long time to complete (some take many years unless you try to pay it off much sooner – like we did), then you may find it easier to let those closest to you know about it. Otherwise you'll need to be prepared to potentially answer questions from your family and friends about why you can't do certain things which involve spending money.
When you're in a Debt Management Plan, you should have enough money to live on after paying your bills and creditors but unfortunately you probably won't have much money spare after those payments have gone out of your account.
Why you should aim to pay off your Debt Management Plan ASAP
Just because you're in a Debt Management Plan doesn't mean that you have to pay those reduced payments until the plan comes to a close many years later. If you want to get back on track with your credit rating as soon as possible, then you should do everything you can to get yourself out of your Debt Management Plan as quickly as possible.
If your income increases or you find your financial situation changing for the better, let your debt management company know (or your creditors directly) so that you can pay more into your Debt Management Plan. The sooner your Debt Management Plan is complete, the sooner you can move on with your life.
Be proud of yourself for getting this far
If you're in a Debt Management Plan, then your finances were probably at a stage where they were out of control. The fact that you're in a Debt Management Plan and trying to get your debts back on the straight and narrow means that you've probably hit rock bottom and are well on the way back up. Be proud of yourself, because you're doing what needs to be done to improve your situation. This is your light at the end of the tunnel!
One day, you'll look back on your time spent with debt and although you might not laugh, you may not hold a grudge. Being in debt has its plus points believe it or not. Debt teaches you something once you've picked yourself up from your rock bottom. It teaches you financial responsibility and it's a lesson that you'll benefit from throughout the rest of your life!
Are you in a Debt Management Plan like we once were? How are you finding it?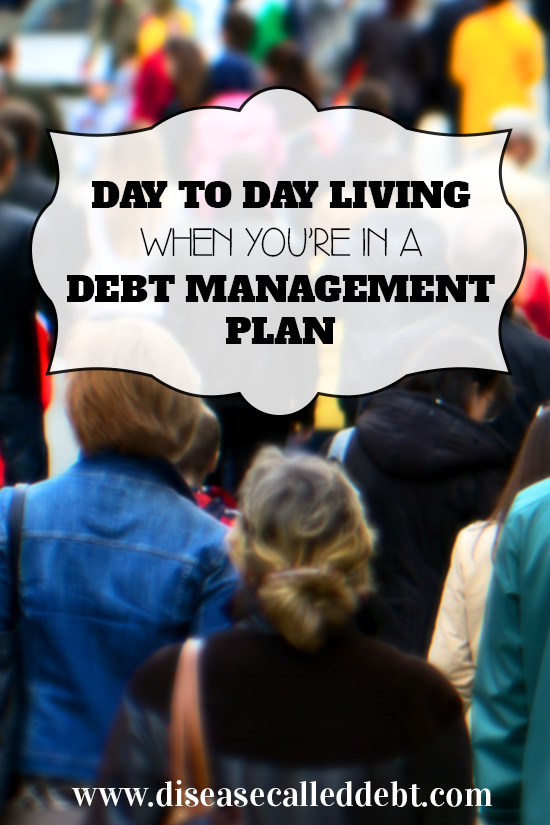 *Quote image courtesy of Flickr