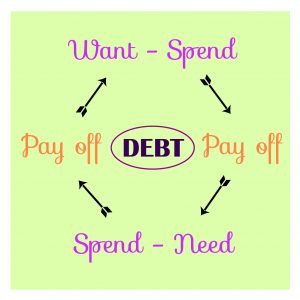 I've been in debt now for 14 years. The reason why I'm still in debt after all this time is because quite simply, I gave in to debt time and time again. I was in the middle of a cycle of debt.
I paid off debt and then I spent again on my credit cards. I repeated this process several times. It was a vicious circle of spending and paying off, yet never achieving debt freedom (heaven in my mind right now).
Something often cropped up out of the blue that I would have to pay for like a car repair, so instead of overpaying debt, I would actually add to the debt in order to get through a tricky financial situation. The thought of catching a couple of buses to work for a month or two whilst I saved up for such a repair never entered my mind.
Shamefully, once something like this happened, things would spiral out of control again and I'd think sod it, the damage is done, I might as well put my holiday on the credit card too and be done with it. This careless attitude has meant that debt has been at the forefront of my life for all these years.
I wasn't ready to commit to the rocky road ahead
I guess I either didn't believe that I could ever be debt free or I didn't really want debt freedom like I do now. Because the thought of buying something on credit now actually fills me with dread in the pit of my stomach, whereas before I thought of debt as something I would just pay off later. The problem was that 'later' never came.
My mindset has changed over time in that I don't have the same enthusiasm for material items like I used to. I'm not bothered about keeping up with the Joneses and feel ecstatic when I find something I really need secondhand for a bargain price. I like recycling my old stuff and I like the possessions I've got already. Paying off debt makes me feel happy (yep really!) and with each payment, a little bit of that heavy burden I carry around with me feels a little bit lighter.
For the last couple of months, the hubby and I have made some great progress with paying off our combined debts. We've managed to pay off over £1000 from our total debt in both July and August! We could hardly believe it given that our wages now are half of what we were earning a few years ago! A lot of this cash that we paid off our debts was the result of selling old items on eBay, selling at a car boot sale and scrimping and saving every penny (these figures include our minimum payments on debts too).
This month on the other hand, although we have overpaid our debts, we won't be nearing the £1000 mark. Lets face it, if we could afford to pay £1000 off our debts every month, we probably wouldn't be in this situation!
Progress is progress!
Even though we're paying off less this month than the last couple of months, we're still overpaying, so that's great. It would be unrealistic to expect such fantastic progress all the time. I'm sure there will be months where we can't overpay a single penny. It will be hard during those times and we'll need to work really hard to get back on track and keep motivated. And work hard we will.
There may even be a time which we don't ever want to think about when a real emergency should happen and we're forced to borrow money to get out of the situation. We can't think what that might be but it would have to be extremely important and a last resort to get us spending money again that is not ours to start with.
Whatever happens throughout this long journey to a better financial place, I personally and solemnly promise that I WILL NOT GIVE IN TO DEBT THIS TIME. This is my promise to myself, my hubby and the PF community out there that has supported me this far. I am 100% serious about getting out of debt for good. This cycle of debt has been broken at last!
Have you ever been in a vicious cycle when it comes to finances?
Related posts:
Illustration © A Disease Called Debt