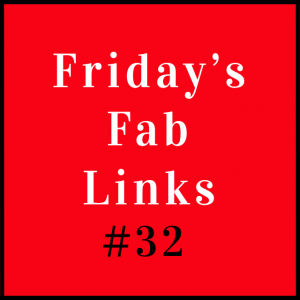 Welcome to another Friday's Fab Links post, which highlights some of my favourite reads from personal finance blogs this week.
I am going to try to make this roundup post a weekly feature again as I love reading other blogs and it's nice to be able to recommend the posts that have caught my eye each week.
It's been a busy week again for us – the hubby and I have been overloaded with Tour De France bunting orders which is great, but it hasn't left much time for anything else! We're not complaining of course as we are really pleased with how the sales have gone and we're racking our brains now for other things that could sell well for events like this.
Any ideas anyone? Think we've missed the boat with World Cup merchandise. If you can think of other ideas we can explore, feel free to share in the comments section!
Before I go onto my favourite reads for this week, just letting you know that I'm writing over at Debt Advice Blog today for the last part in the Managing Debt with Kids series. This post focuses on How to Teach Kids About Money, so please head on over to check it out after you've read this!
Here are my recommended personal finance blog reads for this week:
Pauline from Make Money Your Way wrote a post called Why I Will Never Be a Successful Blogger. I personally think Pauline is very successful in what she does and she is an inspiration to me, but here she's writing about why she doesn't think she'll reach the same level as big blogs like Bargaineering and Get Rich Slowly. I enjoyed this post because Pauline explains why she treats blogging like a hobby (a very profitable one) rather than a business. If I can make this blog work half as well as what Pauline does with hers, I'll be a very happy lady.
Graham at Moneystepper wrote an interesting article called Should I Buy a House in Cash or Take Out a Mortgage? My first reaction to the question presented here would be to pay in cash. Having no mortgage to pay sounds pretty amazing to me. But Graham breaks down his response to this in a very mathematical and logical way. I hope one day that I'll have this kind of choice! 🙂
Side Hustles are  kind of on my mind at the moment, so I liked this post from Daniel at Sweating The Big Stuff: 3 Reasons Your Side Hustle is Failing. Successful side hustles take a lot of work and as Daniel points out, not having a strategy or focusing on the stuff that doesn't matter isn't going to help us make money.
Lauren from L Bee and the Money Tree wrote a heartfelt tribute for her loyal companion called For Murray. If you've ever lost a beloved pet, you'll probably understand what Lauren is going through at the moment. I'm a 'pet person' and animals have always been a part of our family life. I lost two beautiful cats in 2012, I'd had them for seven years and I lost them one after the other. It was absolutely devastating, I still haven't gotten over it to be honest. I have a dog now and he's very much loved.
Brian at Debt Discipline published Are You Living Your Dream? Brian writes about what he's doing to achieve living his dream, professionally and financially. He also writes about how he's educating his children about financial literacy so that they might be able to achieve their future dreams too.
If you missed any posts on my site this week, here they are:
Thank you to the following for mentioning Disease Called Debt on their sites recently:
If anyone else mentioned me, please let me know as I don't always get pingbacks. Have a great weekend everyone!