Paying off a substantial amount of debt is difficult, but certainly not impossible. With belief and commitment, you can tackle your debt and get rid of it for good. It's all about getting into the right mindset and really wanting to be free from debt! The road to debt freedom contains plenty of ups and downs and as well as these, you might find yourself experiencing a rollercoaster ride of emotions along the way.
Every Wednesday for the next 9 weeks, I'll be writing about some common emotions that go hand in hand with tackling your debt along with some practical advice on how to deal with them. If you missed last week's post on 'Fear', feel free to check this out!
Stage 2: Denial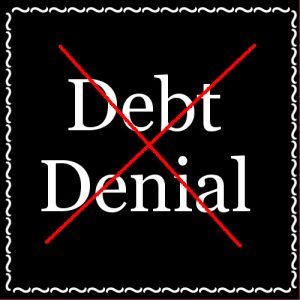 Being in denial about debt is strongly linked to that feeling of dread when we can't bear to deal with the consequences surrounding our debt. Debt denial can be a huge obstacle in the paths of many people who have debt issues.
Often it feels easier and safer even to live in denial and carry on as we have been doing; keeping up with the Joneses, enjoying ourselves and living a 'normal' life like 'everybody else'.
What is denial?
"Refusal to acknowledge an unacceptable truth or emotion or to admit it into consciousness, used as a defence mechanism." Source: Oxford Dictionaries
In the context of debt, many of us are in denial when faced with the ugly truth of how much we owe to our creditors. It might be that we flat out deny the extent of our debt situation or admit that it's true but instead skirt over the importance of dealing with it.
People in debt denial might be inclined to think along the following lines:
"What?! There's no way in the world I owe that much. There must be some sort of mistake. Have I been a victim of fraud?"
"I know I'm in debt quite badly. Who isn't? Oh well, you only live once after all."
"Ok, so it's more than I thought. Not to panic! It'll be fine, things always work out in the end."
"I know I need to start paying this debt off once and for all. And I will, just as soon as I've got my holiday out of the way."
"I'm in a shed load of debt!! But I've got the wedding to pay for and we want to buy a bigger house. So I guess I'll just have to work on paying it back after I've sorted my life out first."
"I just can't think about debts right now, it's too much for me to cope with. I'm too stressed anyway about my job / family / college course. Trying to get my head around all this will just make me more stressed out."
And there we have it: our debt has been nicely put on the backburner, ready for us to deal with it later when there's no other option but to pay it back anyway – and more often than not at an even more inconvenient time.
If we allow ourselves to continue being in denial about debt for too long, we are inevitably making our problems worse. Being in denial about debt problems may be just the tip of the iceberg – what about planning for a secure financial future?
The chances are that if someone is in denial about debt, they might not be in the right frame of mind to be thinking about saving for retirement or building wealth. Clearing debt is the first stepping stone in getting finances in order.
How to stop being in denial about debt:
1. Recognise that you're in denial
One of the main issues around being in denial about debt is that you probably don't know that you are in denial. You might be fully aware of the extent of your debt but to you this is unacceptable, something that you don't want to be thinking about and have shelved away at the back of your mind for another day way off in the future.
So something needs to happen to make you wake up and have that lightbulb moment. Hopefully you won't have to hit rock bottom first. Look for the warning signs and try to be honest with yourself – your debt will catch up with you if you remain in denial. Only it will be much worse than it needs to be!
2. Decide to change and really mean it
Once you've realised that you've been living in denial about debt, the first step has been taken! Now it's time to change. Here's the tricky part… you have to really WANT to change. You might need to think about long lasting changes to your lifestyle which can be a bitter pill to swallow at first. But you will also have to change your mindset and view of debt.
Changing the way you view your debt is so important because after doing this successfully, everything else will fall into place. You'll WANT to pay off your debt. You'll WANT to live frugally in order to become debt free. And you'll do what it takes to get there.
3. Think about what you want your financial future to look like
Once you've recognised that you've been in denial about debt, take a good look at what you want and need to achieve for a secure financial future. Do you want to have enough money to retire comfortably? Do you want to be able to see the world, buy your own home and have the option to send your children to university? Would you like to give more to charity; to family; to friends; or maybe just pick up the dinner tab now and then? Perhaps you'd like to make the odd purchase to treat yourself without feeling guilty. Where does having debt fit into all of this?
The truth is that it doesn't fit. If you continue along the road of debt denial, then it's very possible that your ideal financial future won't take place.
4. Do the math and work out how long it will take you to get there
Once you've worked out what your financial priorities are, calculate how much you'll need for them and how long it will take you to save or invest enough to make your vision a reality. It might just be that it will take longer than you think. But with this information, you can plan ahead and set yourself goals to achieve what you want.
5. What have you got to lose?
Whilst some people can manage their debt responsibly and even earn rewards from their credit cards without treading into the danger zone, there are others who find debt to be a dark lonely place. Being in denial about your debt will only lengthen the amount of time you need to spend in that place.
There's always a way out, even if you need to ask for help from friends or debt management experts. You just have to really want it.
Can you relate to being in denial about debt?
_____________________________________________________________________________
If you'd like to be kept updated with new posts on A Disease Called Debt, why not consider subscribing by email (over at the top right of this page)! You will receive a free eBook copy of The Gift of Debt if you do. 🙂
_____________________________________________________________________________
Related posts:
Image © A Disease Called Debt