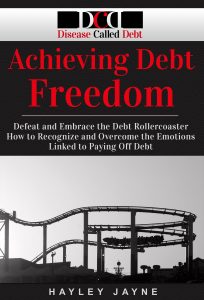 I'm pleased to announce my new eBook "Achieving Debt Freedom" is now available on Amazon.com! It's free to download for a limited time.
Some of you may remember that a while back I wrote a series about the emotions a person might face when they're fighting a battle with their debts. Well, after writing this series, I decided to turn it into an eBook as I thought this could be a handy resource for anyone trying to get out of debt. Being in debt is a real roller-coaster ride, not only because paying off debt is tough, but also because it can really take its toll on a person's emotions too.
Why should you download my eBook?
My eBook "Achieving Debt Freedom" will help you understand what stage you're at with your own debt by outlining some of the key emotions you might be feeling.  It will help you to recognize and admit your debt to yourself and will also help you to overcome any negative emotions that you may begin to face if your debt is making you feel stressed out or depressed. 

In addition, "Achieving Debt Freedom" covers some of the plus points that can come from being in debt, providing that you take action and start your journey to debt freedom. 
Here's what you can expect to read about…
How to stop fearing your debt
How to stop being in denial about your debt
How to overcome anger issues relating to problem debt
How to stop regretting your financial mistakes
How to accept your debt and move forwards in a positive way
How to find your passion and motivation for debt payoff
How embracing hope can help you stay the course when paying off debt
How you can be at peace with yourself and your debts
How you can find happiness in your debt situation
How to always aim for success and triumph
Did I mention this eBook is free?
For a limited time at least! The "Achieving Debt Freedom" eBook will be free to download from Amazon between July 16th to July 20th 2014. So don't hesitate, get your free copy of this eBook asap!
You can read "Achieving Debt Freedom on your PC, Mac, smartphone, tablet or Kindle device, within minutes of ordering it.
Can I ask you a favour?
If you have a moment, could you help me to spread the word about my new eBook? If you're not in debt personally, this eBook might be of help to someone that you know.
Perhaps you could share this post with your social networks or if you're a blogger, maybe you would consider linking to this post on your own blog? Even better, if you decide to download a copy of this eBook, I would really appreciate it if you left a review on Amazon about it. Thank you so much in advance!
Click this link to download your copy of "Achieving Debt Freedom" now!