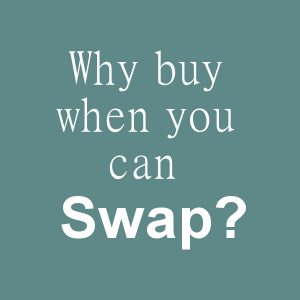 Have you ever used swap websites before? A great way to save money is to swap your old stuff that you no longer want for secondhand things that you can make use of.
I swap kids clothing and shoes with a group of friends and when these are too worn or we can't pass them on any further, we take them to the local charity shop.
This swapping cycle works really well for us at the moment especially as our daughter is growing so fast.
I can't remember the last time I bought brand new clothes off the rack for her! Whilst we're paying our debt off, it's vital that we save money wherever possible.
I've been searching around the internet recently to see what else is swappable. And the result? Pretty much anything! There are loads of swap websites out there. So I've put together several short reviews of the best swapping websites I've found, some which are UK based and some US or worldwide.
Swap Websites – UK based
This is a UK-based online marketplace for swapping items and services. It allows you to swap almost anything you have for anything you need – Items, services, skills or spare time.
For example, users can trade their old books for a video-game. Or offer French tutoring for a kitchen table. After signing up, you can upload your items and wishes, search for anything on the marketplace, make and receive swap offers, and even chat with other swappers on Messages. It's free and easy to use!
Gumtree is a great UK marketplace for buying and selling, a bit like Ebay, but without the fees! In addition, Gumtree also has a Swap Shop section where pretty much anything can be swapped from cars, to clothes, to phones, to toys. This site is well established so it's worth a visit if you're looking to swap some old stuff.
This is a UK book swap website. If you love reading actual old fashioned books like I do but are bored of the ones you already have, you can swap them for second hand books that you do want. This site has thousands of books to choose from. You just need to register some old books, then search for a book on the site that you fancy reading. Once you've found a title, you simply contact that member through the site who is automatically directed to look at your list of books. If they like one of your books, the swap can take place and the only fee to worry about is the postage for sending out your book.
This UK online swap platform is aimed at young audiences between the age of 6-18 years old. There is no member contact and it's a safe secure online environment which is good to know for parents! The site partners with public sector youth organisations and schools. Users earn virtual currency called 'swapits' for every item they swap which they can bank to spend on a wide range of new and used items like iPods, games, stickers, lego and much more.
There's no cost attached except for the cost of posting your package onto the Swapit post room where it gets forwarded onto the recipient 'swapper' from there. I think this site is fantastic because it offers children the opportunity to learn about trading, business and economics as well as saving money and recycling!
This is the UK's biggest marketplace where you can swap, trade and sell nationwide. Anything goes on here from cars, phones, bikes, tools to toys. There's also a section dedicated to giving away stuff for free! You can register and add listings for free.
You can swap your unwanted books, DVDs, games and CDs on this website for Swap Points which you receive once you post out an item to another member. You then use your Swap Points to 'buy' used items offered! The site is free to join and swap, the only cost involved is the postage cost for sending out your old stuff.
Operating in the UK, this low cost service allows Employers to share their skilled Employees with other like minded organisations. Employers who redeploy skilled staff currently being underused into an organisation that needs such staff, can actually reduce their staffing costs. There are also benefits to Employees who want to take advantage of a secondment in terms of widening their work experience and future prospects!
Fed up with your car? This website offers an opportunity for car owners to swap their cars with other users, potentially saving thousands of pounds in the process. You can advertise your car on this site with a free 90 day listing at the moment. You'd be swapping your car with a private individual, so it's important to ask the right questions and make sure to get as much history as possible about the car that's being swapped.
Swap Websites – US or Worldwide
This is a site aimed at swapping fashion clothes and accessories with other fashionistas, saving money and recycling in the process. It started off in the UK, but the art of 'swishing' is now taking place globally! You can attend a Swishing Party (calendar of events on the website) or host one of your own. The rules are that you have to bring at least one item of quality clothing to swap and that everyone taking part has half an hour to browse before 'swishing' – claiming your new items. Swishers are not permitted to fight, scratch or spit!
This is a bartering website where you can give away all sorts of items you no longer want or use in return for points. Once these points have been received after sending your stuff to others, you can then trade the points by making a 'best offer' on items that you do want. There's no fees whatsoever and you can gather a few points to use for swaps just by signing up. Pretty much anything can be swapped on here and this one seems to be geared up mostly for US swappers.
This is a global swap website that allows you to swap books, DVDs and music. After signing up, you list the items that you want to swap and when someone requests one of your titles, you send it out and pay for shipping. In return, you'll receive a request point which you can use to request an item from another user (providing you have positive feedback that is).
Another online exchange for used books which operates world wide. Like most other Book Swap websites, the service is free to use with the exception of postage costs for sending out the book. Every time you send someone a book, you earn a point to redeem on a used book title of your choice. When members post overseas, more points are allocated to make up for the extra postage cost!
Paperback Swap is the largest online book swapping community in the world! It seems to be mostly geared up for use in the US. You can swap books in the same way as on the other book swap sites mentioned above in terms of receiving points when you swap a book – the only fee is to pay for postage.
An added bonus is that when someone wants one of your old books, you automatically get a book wrapper to print out with mailing label and exact postage if you wish, meaning there is no need to go to the post office. It can be posted from your nearest post box! The estimated postage here is $2 – $2.50 to send a book.
This site works in much the same way as Paperback Swap and operates in the US. You post 10 DVDs that you no longer want on the site and for that you receive 1 credit which enables you to start swapping. You receive further credits once you've started sending out the old DVDs on your list to other users. You can print off a wrapper and the exact postage to make it straightforward and convenient. The postage is the only cost to worry about and when you request a DVD for yourself, it's free! Note: your DVDs which you want to swap must be originals!
Like SwapADVD.com, you need to post 10 CDs that you no longer want to get started and you receive 1 free credit for doing so. You then need to purchase 'SwapaCD Money' which is sold in $5 increments. Each swap costs 1 credit plus $0.49 from your SwapaCD Money fund and you need to pay postage on the CDs you mail out (this site seems to be based in the US).
Swap.com is the first online consumer to consumer department store where users can buy, swap or sell used items. Although anything can be listed, the site focuses on kids items mainly. It works in 3 steps: 1) Pack your kids stuff and send it to the logistics centre; 2) The logistics centre will store, photograph and list your stuff after you set the price (this is where the valet service conveniently comes in!); 3) Swap your stuff for other items, or money. The site operates in the UK, US, Finland and Germany.
Swapping your home for a while is a great way to travel and explore other cultures by getting to stay in other user's houses for free (therefore leaving you with more cash to spend on traveling)! The idea is that you can live as locals do, so if you love seeing the big wide world, this could be a great way to do it.
The Home Exchange website does charge a fee to list your property and contact other members, but it could be a small price to pay for a great holiday. Currently, the site has 46,000 homes listed for exchange in 142 different countries!
This site is another home exchange website serving 90 countries across the world! If you want to explore other cultures and countries by staying in another member's home for free, then this site is also worth a look. An added bonus is that this site is free to use.
Swap sites like these are a great way to make some extra cash, but if you want to learn how to turn things like this into consistent extra income check out multiplestreams.org.
Do you use swap websites already? What do you think about swapping things that you don't want for things that you do?
*Please note, I have not been paid a commission to review any of these swap websites.

Related posts: