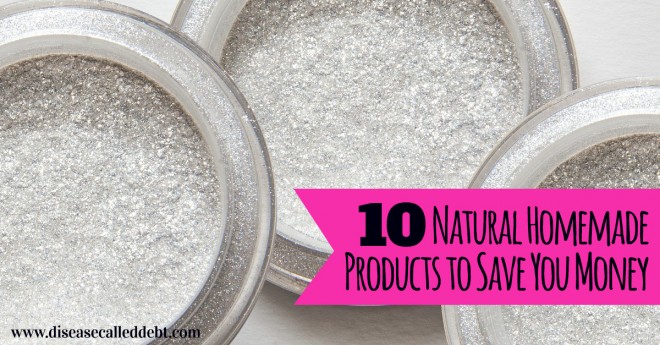 Today's post is about natural homemade products you can make and use which could not only benefit your health but also save you money too!
I don't know whether it's because I'm approaching my mid-thirties, but I've been doing a little thinking lately about living more of a natural lifestyle. One which involves eating more healthily, getting fit both physically and mentally and getting rid of products which contain chemicals and toxins.
Our health has to be our most important consideration – it's the one thing that we need in order to be here on this planet. We need it so we can enjoy life and be with the people we love and care about.
What's the point in scrimping, saving, paying off debt and working hard to build a wealthy future only to go and die of a heart attack or cancer before we even reach retirement age?
I made some health sacrifices to get out of debt
I know it's possible to cook good healthy meals in a cost effective way. I even did a Frugal Feast feature on this site around a year ago! I must admit though that I have made a few health sacrifices in order to get our debt paid off as quickly as possible.
When the hubby was away with work, I often ate beans on toast or pasta for dinner. It was cheap and filling. Better than eating crisps and chocolate, right? Ok, I ate those too for a quick snack in between working my various jobs to earn extra income. Yes, I could have eaten fruit every time, but I was busy, mentally tired and very often needed some quick energy to keep me going. So I gave in to cravings, even though I know how bad it is to keep eating foods loaded with sugar and fat.
So what's the result of this lifestyle after achieving our mission to pay off debt? A few more extra pounds in weight than I'd like to think about and a distinct lack of energy because I haven't done any real exercise in months.
One of my biggest health fears is getting cancer. It's a disease that I've lost five of my extended family members to and the fact that we still have no cure after all this time is really alarming. Every two minutes, someone in the UK is diagnosed with cancer.
One of the best ways we can fight against cancer is to do our best to prevent it in the first place. There's no guarantee that we won't get cancer, but the risks are lowered. The best way to do this is to eat healthy and exercise. Eat less red meat, processed foods and salt and more fruit, veg, chicken and fish. It's common sense, but how many of us take notice of this good all round advice?
What impact do chemicals and toxins have on our health?
Common sense again tells us that certain chemicals and toxins are bad for us. It's only recently that I've been doing some research into this though. We can be exposed to chemicals like petrol and gas through breathing them in or we can come into contact with chemicals by touching them, where they sometimes get absorbed through our skin and go straight into our blood stream.
Effects from chemical and toxins exposure varies from person to person depending on their sensitivity to chemicals, their age and lifestyle and what the substance is that they came into contact with.
The result of chemical exposure can include skin irritation, fertility problems and delayed health effects such as cancerous diseases. Yes, there have been some links made between cancer and human contamination with toxic chemicals, including household cleaners, pesticides, packaging and cosmetics.
From what I've read, the links between cancer and toxic chemicals still need further research, however, it makes sense to me that there has to be overall health benefits to using less chemicals day to day – with or without the scary cancer links.
So I've been finding out what chemical based products we can do away with and make ourselves naturally. It turns out that there are tons of homemade products available for you to make and use. And guess what, you can save money too!
10 Natural Homemade Products to Save You Money and Benefit Your Health
1. Homemade household cleaners
I've thought about using homemade household cleaners before, but my concern was whether they'd be effective enough to do the job in hand and actually clean things properly. However, after researching all the different kinds of natural and non toxic household cleaners that you can make and use, I'm now convinced that it's possible to make your own products cheaply and effectively.
2. Make your own Shampoo and Conditioner
One really great way to save money on these products and free yourself from chemicals in the process, is not to use any shampoo or conditioner products. At all. Yes, you might look (and smell) a bit funny for a good few weeks, but many people swear by taking a break from the process of shampooing and conditioning.
You can read what this lady learned from three years of going without shampoo. If you're not into that, you can consider using a homemade shampoo and conditioner recipe like this one!
3. Homemade Deodorant
Coconut oil is really such an amazing and versatile ingredient. You can even make natural deodorant with it that lasts all day! My advice would be to make and use this over the weekend when you're not about to go into an important work meeting or need to be in the close vicinity of your work colleagues all day – just in case!
4. Homemade Natural Toothpaste
Commercial toothpastes contain Fluoride, a toxic chemical that apparently hasn't been shown to reduce tooth decay. Believe or not, you can create your own toothpaste naturally which can actually not only clean, but whiten and re-mineralize your teeth. Got to be worth a try, right?
5. Homemade Washing Powder
I've seen a number of fellow bloggers posting articles about making homemade laundry detergent. All the recipes I've seen though are US based using a product called Borax. However, here in the UK, we don't have Borax so we need to use a Borax substitute.
You can get tons of recipes for washing power detergent from the internet, however here's a really great video tutorial for UK residents from a lovely lady called Chuckleberry Willow (not sure if that's her real name but I like it!). Be prepared to save a fortune on your washing powder, because this recipe is "dirt cheap"!
6. Homemade Body Butters
The Body Shop is one of my favourite ethical and natural beauty product retailers. However, their body butters cost £13 for a decent size tub! You can make your own for a fraction of the price with one of these 17 recipes and enjoy soft skin forever!
7. Homemade Cosmetics
One of the main areas that I spend money on (and I cringe at the expense every time) is my luxury Estee Lauder foundation products. I had no idea that you can actually make your own cosmetics. I'm not talking about facial masks here; I'm talking foundations, mascaras, bronzers and lip balm. Here's a great recipe for powdered foundation that I'm definitely going to try out. If this works, I'm going to save a lot of money!
8. Homemade Sunscreen
It's been drilled into us for years that wearing sunscreen is a must in order to help prevent skin cancer and early aging. But did you know that most sunscreens contain toxic ingredients that in some cases can promote skin cancer growth? I found an article from Wellness Mama which explains the facts on this and gives us a natural homemade sunscreen recipe we can use instead.
9. Homemade Air Fresheners
You don't have to buy those toxic air fresheners at your local supermarket or store. You can make your own natural air fresheners using flowers, by making your own potpourri or even by making your own room spray! Check out this Halloween inspired Pumpkin Spice Room Spray by Wellness Mama.
10. Natural Weed Killers
Just this summer I let loose in our concrete yard with weed killer toxic sprays. Not only did I spend money on them, I actually ended up damaging a few other plants too. I wish I had gone down the natural route. Here are 8 homemade and natural weed killers that you can use to control weeds in your garden without spending a fortune and keeping your garden safe too.
What are your thoughts on living a more natural lifestyle? Do you have any natural recipes to share which save money and are healthier too?
*Image above courtesy of Flickr Creative Commons.