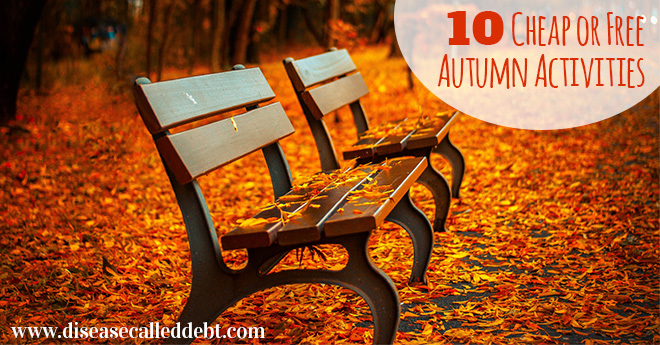 Now summer and the warm weather is out of the way and autumn is gradually descending upon us, you might be wondering what fun things you can do now that are cheap or free. Well, autumn is one of my favourite seasons and I think there's much you can do along the way to enjoy yourself without spending too much cash!
10 free or cheap autumn activities
1. Autumn walks
I think autumn is one of the best seasons to appreciate nature and do a bit of squirrel spotting! Walking through leaves of red, yellow and orange and maybe even jumping into a few piles of them with your wellies on is pretty cool! Why not check out some parks and nature trails near you and if you have kids you can collect leaves and do leaf printing with paints when you get back.
2. Pick blackberries and apples
Autumn is the season for blackberries and apples and whilst you're out walking, you might just come across a few bushes and trees that you can pick from. Take a container with you and pick as many as possible. Tip – when picking blackberries, only pick from the high up branches. Dogs like blackberry bushes a little too much if you know what I mean?
3. Make autumn tasty treats
With your autumn pickings, you can cook up some wonderful autumn treats like toffee apples, blackberry or apple crumble or pies and even brew your own apple cider.
4. Go camping
Camping is a fun activity to do with friends or family and it's super cheap too. And if you can stomach colder temperatures, it's a great activity to do in the autumn. What's better than toasting marshmallows around a campfire to warm you up on a chilly night?
5. Make autumn decorations for your home
You can make some beautiful decorations for your home using treasures that you find when you're out walking. Look for pine cones and acorns which you can paint if you like and attach string to them to make bunting. You could even collect leaves and make leaf printings onto fabric and use for tablecloths, napkins or curtains.
6. Make some winter woollies
Autumn is a great time to take up knitting or crochet. Even if you're not crafty, I'd encourage you to have a go! Not only can you save money on winter hats, scarfs and gloves, but it's also a lot of fun to learn something new. There's tons of beginner crochet tutorials on Youtube to get you started too.
7. Fly a kite
With autumn comes the inevitable windy weather, perfect for kite flying activities! When was the last time you flew a kite? I did this recently with my daughter and I'd forgotten just how much fun it was. You can pick up a kite for cheap or make your own from a plastic bag if you're feeling adventurous.
8. Geocaching
If you've not done geocaching before, it's like outdoor treasure hunting for grown ups and kids too. Basically, you use GPS tracking on your phone to locate hidden treasure at different locations around the world like parks, in a city street and even under water.
The actual treasure is a container full of personal items that belong to people who have found it before. What you can do is take one of the treasures out of the container and then put something of your own back in, or a bit of loose change if you want to.
I tried this last time I went camping and it was a lot of fun! Our little girl found a sparkly bracelet in the treasure box and we put a pound coin in to replace it. Check out geocaching.com for more info on how it works!
9. Watch Halloween movies
If you like to get into the spirit of Halloween, you can begin your preparations early by watching a few spooky movies. My personal favourites are the Harry Potter films, the Addams Family and Casper, and yes I know, I'm a big kid. I used to like gory horror films but I get way too spooked out these days!
10. Make a scarecrow
Making a scarecrow is a useful activity to do if you're noticing plants with holey leaves, but if not, it's still fun to make one anyway! You just need a bunch of old clothes, a hat and some straw – check out this scarecrow tutorial here.
Autumn is a really great season for doing a lot of outdoor activities, before the weather gets really cold and the winter sets in. Many of these suggestions are free or will just cost you mere pennies to do!
I hope you enjoyed this list of fun, cheap or free autumn activities. Will you be trying any of these out?