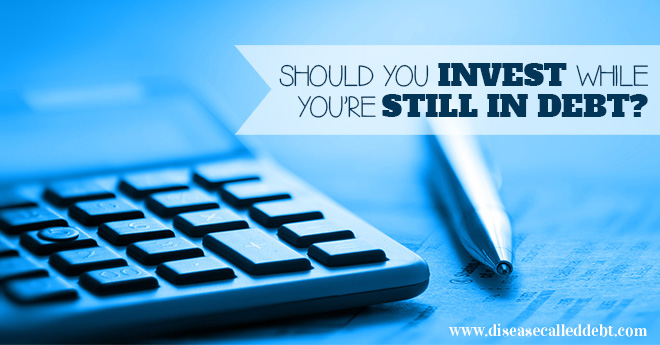 Today's post about investing when you're in debt is from guest blogger Kayla.
Whether or not to invest while you are still in debt is a good question, and one that is not easily answered. This is something I've struggled with as I am currently working my way out of debt right now too.
I believe most people would automatically answer that they should pay off debt first.  Usually the argument behind this is due to high interest rates on debt that would negate the lower interest rates you could be earning on your investments.
So, should you invest while you are still in debt, or not? Here are some things to consider about whether or not you should invest while you are still in debt.
Examine your Debt
How much debt do you have? What are the interest rates on your debt?  If the interest on what you owe is higher than what you will receive with your investments, then paying off the high interest debt could be the best option for you.
Once your high interest debt is paid off, you could consider doing some investing while paying off your lower interest debts, like a home mortgage or maybe even a low interest car loan.
401K's
If your employer offers a 401K with a matching investment program, it would be a bad idea to pass up the opportunity to invest in it. The money you add to your 401K gains interest on top of interest on top of interest… You get the picture.
Plus, taking advantage of employer matches can double your money right off the bat, assuming your employer matches 100% on the first 5% or so that you invest from your paycheck. That's a better return on your money than paying off debt, even if it's high interest credit card debt.
Reevaluate
Again, as you pay off the higher interest debts you owe, your situation could change. You should re-examine your situation after paying off some of your debt to see if you could apply those payment amounts toward your investments to gain a higher return.
This can be difficult to do because of the satisfaction gained from paying off the debt you owe. You feel relieved to see those balances going down, and each one paid off is a little bit less stress weighing you down. But it's a good feeling to see your investments growing as well.
To make the best decision it might help to take the emotion out of it and make your decision based on what the numbers tell you.
Risk
After crunching those numbers you must also figure in the risks. What are the risks associated with your investments? If you are investing aggressively and those investments suddenly begin losing money, it could change the equation.
If you live in the UK and have an Individual Savings Account allowance, you'll lose it if you don't use it. You will get a new allowance the next year, and it usually goes up, but they don't roll over from year to year. These ISAs are tax free, and you can split the savings between cash and investments.
As to whether or not you should invest in them or pay off debt, the same rules apply as in the US. Examine how much debt you have and what it's costing you vs. what you earn on your investments.
The bottom line is that each person's situation is unique to them, making the answer to the question of "should you invest while you are still in debt?" a difficult one to answer. However, whichever path you decide to pursue, you come out a winner in the end when you use your money wisely.
What do you think? Should you invest while you are still in debt?
_____________________________________________________________
Author Bio: Kayla is a personal finance blogger in her mid-20s who loves to write about money topics of all kinds.