Happy Monday! Seeing as Game of Thrones season is now upon us and it's one of my favourite TV shows, I've put together a fun post for you today, Game of Thrones style, about how debt can make you feel. Enjoy!
The part where you ignore debt for some time… 
Then, that moment when you realise having debt is not good…
When debt goes from not good to pretty scary…
And then eventually, debt can leave you feeling like this:
Then you know something must be done…
You want to DESTROY your debt…
So you do what needs to be done.
You might even get some help…
You feel like smiling again…
When your debt starts reducing, you might even feel like this:
In the end, victory will be yours!
Are you a Game of Thrones fan? If you liked this post, please take just a moment to share it with your followers!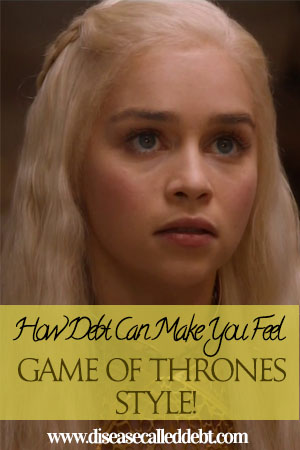 *Main image sourced from Flickr under the creative commons license. This image has been cropped and a text overlay added by Disease Called Debt.