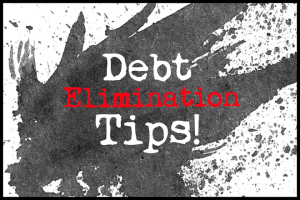 Welcome to another edition of debt elimination tips – my regular series which aims to help you pay off your debt faster!
This week's debt busting tip is about earning extra income to speed up your debt repayment. This is probably the most effective way to clear your debt fast – it really worked for us!
There's no doubt about it, earning extra income in addition to your day job is a handy thing to aim for when you're in a tight spot with money and definitely so if you're in debt and trying your best to pay it off.
The great news is that there tons of ways to make extra income. In fact I wrote a whole book on the subject! Here are a few of my favourite ways.
1. Make Money on eBay
Probably the most tried and tested way to make money quickly, selling on eBay is still a really great way to earn extra income. Sell your old possessions or even start an eBay business by looking around for bargains and selling them at a higher price. In addition, you can sell things on Craigslist or Gumtree. Ultimately though unless you have an eBay business you'll run out of things to sell. So let's move onto number 2.
2. Blogging
Blogging isn't a quick way to make money but if you enjoy writing and you have some spare time to devote to blogging then you can earn money from it. You can earn money from Google Adsense easily once you have some traffic coming to your blog. In addition you can sell direct advertising and join an affiliate program like Amazon Associates – where you promote Amazon products and get paid a commission every time someone buys something off Amazon through a link from your blog.
The trick to earning money through blogging is to get traffic. That means writing regularly about something you're passionate about so that your readers will keep coming back. In addition you'll need to learn a little about Search Engine Optimisation (SEO) practices – getting your blog posts recognised in search results in Google and other search engines. Blogging is really fun and I'd definitely recommend it! Some people can even earn a living through the money they earn through blogging – never mind a bit of extra income.
3. Freelance Writing
If you enjoy writing and are good at it, you can build up a nice side business from freelancing. Freelance writing offers a lot of flexibility and you can earn extra income around your day job. The hardest thing to do is get clients especially if you're competing with writers from overseas as they are often able to charge a much lower fee than you can. However! Fear not, because many clients are looking for high quality writers that they can develop long working relationships with.
To get started, you may have to work for a low fee to get some feedback and experience but once you've got a few jobs under your belt, you should be able to charge more. You can find clients by offering your services on oDesk, Elance, on your own website if you have one, or even by emailing companies relevant to your writing field to ask if they have any writing opportunities.
4. Social Media Promotion Services
Having a social media presence is really important for many businesses and many are willing to outsource this task because of the amount of time it takes to start up and maintain Twitter, Facebook, Google Plus and Pinterest profiles for example. This is where you can step with in with social media promotion services by offering to take control of this activity in return for a fee.
You'd be responsible for sending out regular tweets, status updates, sharing relevant news and opinions and promoting a business's services on their social media accounts and on your own too. To get started, check out your local small businesses that perhaps already have a website but as yet haven't jumped on the social media bandwagon.
5. Network Marketing and Direct Sales Businesses
There are many businesses that offer network marketing opportunities through direct selling, referral selling and pyramid selling. An example of a network marketing business is the Utility Warehouse in the UK, where you can sign up to be a distributor for referring people to Utility Warehouse for their gas, electric, broadband and phone services.
As well as earning a commission from getting people to sign up and use the service or product, you can also build your team by bringing in people like you who also want to make money in this way. Then you can earn a commission from their referrals too. Building a team and being very active is the way to make a networking marketing business work. Network marketing businesses usually have a small fee to join but you can earn this back pretty quickly once you start referring and earning commissions. Other examples of network marketing businesses include Arbonne, Kleeneze, Herbalife, or Scentsy.
6. House Cleaning
If you think cleaning is a poorly paid job, think again. A self-employed cleaner can charge anywhere from $10 to $30 per hour in the US for general house cleaning and £7 to £12 per hour in the UK. A good way to make this work is to charge for a minimum of two hours, that way it's worth your time in driving to and from your client's house.
You can charge more for heavier cleaning jobs like an oven clean or in 'hard to get to' places. As your business grows, you can consider taking on staff yourself and earning from each job that you book on their behalf. Advertise your services locally and because you can be your own boss, you can work evenings, weekends, part time or even full time.
For 101 ideas to earn extra income, check out my eBook 101 Ways to Earn Money from Home. It's got tons of great reviews on Amazon! I hope you enjoyed this debt elimination tip. Please subscribe to make sure you're kept updated for future tips!